The Allstate Leasing Maintenance Management Program can provide a complete program for the management of the service and maintenance of its fleet vehicles. The Program includes accounting support, simplified billing, cost containment and expense control. Allstate is currently providing this service for many companies throughout the United States.  
Our Maintenance Management Department is headed by Rick Sauter, an industry professional with over 20 years of experience in all aspects of fleet service management and operations.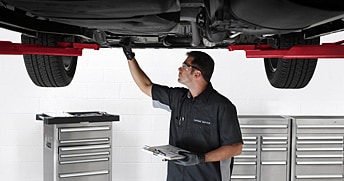 Through the efforts of our experienced staff, it is estimated that the cost of maintaining a vehicle can be reduced by as much as 15%. In addition, savings on tires and replacement glass are estimated to average 30% and 45%, respectively.
Under this plan, Allstate provides national account service programs and pricing through a network of vendors such as Mr. Tire, Goodyear, Firestone, Pep Boys, Jiffy Lube, and Safelite Glass as well as with authorized manufacturer dealerships. If you so desire, Allstate will establish relationships with your current vendors so as to maintain any pricing advantages that you are currently receiving. In addition, because your fleet is based in this area, we may often take advantage of utilizing the service facility here at Allstate Leasing. By doing so, we can better exercise cost control over your fleet and, when necessary, provide your driver with a loaner vehicle.
Your driver will be provided maintenance instructions and schedules. Our experienced service staff approves all repairs and service beyond regularly scheduled maintenance. We eliminate duplication of work being performed and reduce unnecessary repairs and services because your vehicle's history is at our fingertips. Inherent vehicle problems are dealt with at the manufacturer level, which often results in coverage under warranty or reimbursement beyond warranty expiration. A toll free telephone number provides access to an Allstate Leasing automotive service specialist, who is available to counsel and assist your driver on maintenance problems.
Vehicle maintenance expenses are billed on a monthly basis only in the amount charged by the vendor. Allstate does not place an additional markup on any of these services. Your driver will not have the responsibility of paying the bill, thereby eliminating any expense reimbursement.
A computerized service history and expense report is maintained at Allstate Leasing and provided for each vehicle on a regularly scheduled basis. This comprehensive information is a valuable management tool in monitoring operating expenses and making decisions concerning vehicle replacement cycles. It also provides information showing the maintenance expenses during the period, expenses from inception to current date, due for maintenance notification, and vehicle repair history with current and projected mileage.