Allstate provides a wide variety of buses and handicap vehicles for institutional and commercial use. Our clients include: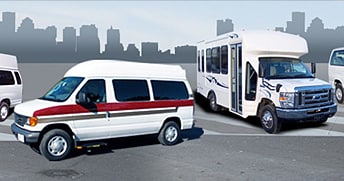 Schools and universities
Athletic Teams
Entertainers
Assisted living communities
Religious organizations
Tour groups
Hotels and resorts
Airport and commuter shuttle services
Allstate works not only with the client but also with the bus company to insure that the vehicle is configured properly and is obtained with the most cost effective lease terms and life-cycle costs.
ADA compliant vehicles include side entry and/or rear entry lowered floor minivans, custom wheelchair transporters, center aisle shuttle vans, minibuses, mid- full-sized buses.